Matryoshka dolls.
Hi there. Thanks for stopping by my arts and entertainment blog. I hope everyone had a great Christmas. Mine was amazing, we spent the day at home and fell asleep by art deco candlelight.
Today I wanted to talk about one of my favourite antiques and an unusual form of art, Matryoshka dolls. Matryoshka dolls are commonly known as Russian nesting dolls, and are characterised as a set of wooden dolls, 2 or more, and are of a decreasing size. They can then be placed inside each other. I've started a collection of them and found some great cheap antique dolls online here; http://www.for-sale.com/antique-russian-nesting-dolls.
Traditionally there will be 7 wooden dolls in a set, although this can and will range depending on the designer. A traditional Matryoshka nesting doll set consist of a roughly cylindrical shape, which is decorated to resemble an attractive young woman wearing either a traditional peasant costume or a more extravagant sarafan outfit, which is a traditional loose fitting Russian costume. The Matryoshka doll is usually wearing a traditional head covering, probably a nod towards the cold weather associated with a rough Russian winter.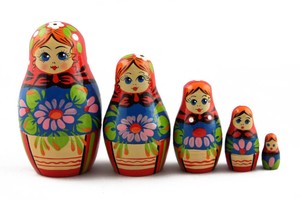 The translation of Matryoshka is 'little Matron' and comes from the Russian name Matryona or Matrioshka. In old Russia the name Matryona or Matriosha was a very popular name amongst peasants. The name is supposed to originate from the Latin word 'Mater' meaning mother, and during the same time period as the origins of the dolls the name would commonly be associated with the mother of large peasant families and the image of the mother would be a healthy large rounded woman. They are sometimes called Babushka dolls. Although this is incorrect. Babushka means grandmother or old woman in Russian, and is a commonly misused name for the dolls outside of Russia.
Family, fertility and mothers are very important in Russia, and this has obviously had much influence in the concept of the Russian nesting dolls. In Russian culture many generations and far off relatives will play a strong part in the family. A large and close family is thus very common and traditionally important. It can be said that the Russian nesting dolls can be seen as having a strong symbolic element to them and that this can also be seen in the shape of the dolls. Matryoshka dolls tends to be rather wide and voluptuous with a fuller figure. It has even been said that the shape is similar to an egg, which is a major symbol of fertility and reproduction.
Nesting dolls have been around for many years, the earliest known being in the 1700's in China. Also in China, many years before that, around 1000 AD nesting boxes were created. They became very big in Japan and China.
In 1890, Vasily Zvyozdochka, carved the first Russian nesting doll set which was designed by a folk crafts painter, Sergey Malyutin. Both Malytin and Zvyozdochkin were folk artists who lived under the patronage of Savva Mamontov. The doll set was meant to portray a traditional russian family and consisted of a Mother and her 7 children; 5 girls, 1 boy and a baby. In 1900 Mamantov's wife showcased the Matryoshka dolls at the Exposition Universelle world fair in Paris. Here they won the Bronze medal and received exposure across the globe.

The principles and techniques for making Russian nesting dolls have largely remained unchanged since the first dolls were made nearly 130 years ago.
Matryoshka dolls often depicted a peasant girl dressed in the traditional dress. They are largely female women, although there are many which are different. They also often follow a particular theme and originally this would often stem from fairy tales or traditional characters.
Sergiev Posad was the russian town where the first russian nesting dolls were made. It is located around 73 km from Moscow, and is well known for its arts and crafts. They were well known for creating wooden toys, known as Trinity toy, thus the natural progression towards the nestling dolls.
One of my favourite themes for Russian dolls was a popular design in the early 1990's. Following the collapse of the Soviet Union, Communist Russian leaders were painted onto Matryoshka dolls.


Have you guys had a chance to look up Museo Atlantico yet? If you don't know what I mean then check out my latest blog post on it!